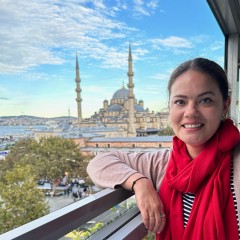 So, after a month off from both blogs and work (a roadtrip around Turkey for my honeymoon – bliss!), I'm writing to you after a whole day of exams. Proper, bags at the front of the lecture theatre, phones off, clear pencil cases, ticking clock louder than my ragged nervous heartbeat kind of exams. Which gives me flashbacks to the 1st year university maths exam where my phone alarm went off, blasting the singer Akon's song "Locked Up" (you can work out how old I am from that reference!) to the entire room. I decided to ignore it out of shame and thinking that now it had played, it would stop. It didn't. Starved of attention, my phone snoozed the alarm, only to again regale the room with Akon's dulcet tones 7 minutes later, at which point I had to admit my dubious tastes in music and climbed in a very unladylike manner over the desk to get to front and manically remove the battery from the phone and bury it at the bottom of my bag, along with my dignity.
These exams were, thankfully, less eventful. They were for the renewal of my Dangerous Goods Safetey Advisor (DGSA) certificate, which needs doing every 5 years, much like the RPA recertification … which is also coming up. In Spanish they say, like the English "No hay dos sin tres" – Bad things come in threes. So now I'm wondering what other "career admin" I've forgotten I need to sort out in the coming months!
This is the 2nd renewal of my DGSA qualification and usually it requires a 1-week training course the week before the exams, then 3 exams in one day. This time around I did things a little differently and did the training course online. One of the better outcomes of covid was the way we have all adapted to remote working – and that includes training. I was sceptical, I'll admit. 1 week of training is intense enough at the best of times, but online? Staring at a screen, how would it work? I'm pleased to report it was much better than expected. It was engaging and interactive, and I actually ended up quite enjoying it. Yes, it was very full on, and by the end of the day I couldn't wait to get away from my screen, but I do think that it was a very good way of delivering the training, not least because I could do it from the comfort of my own home in Spain where there were snacks and cups of Yorkshire Tea on tap. Not to mention that it was much cheaper. The course itself was cheaper, and there wasn't the additional associated travel and subsistence expenses. With the money I saved, I was able to treat myself to my very own copies of ADR to adorn my bookshelf ♥. It was also just nice to be back in a training event and learning/refreshing knowledge. We had our cameras on all the time, so it did feel as close to an in-person training event as possible (even if it meant I had to actually get dressed on a morning!)
Whilst I do appreciate the benefits of in person training and events – I couldn't wait to get back to the in-person SRP conference in Bournemouth – I do think that this remote learning has made its place at the table and is here to stay. That's why I'm so pleased that we have committed to continue delivering the lunchtime webinar series for the foreseeable future. Turnout to the webinars continues to exceed any of the expectations we had when we first started running them, and we regularly have people tuning in from overseas, which is amazing, and it's such a great feeling to know that we are so accessible to the world now in this post covid world. We're learning all the time with them, and hopefully improving, but please continue to send us your completed feedback forms as it's the only way we can know if we're doing a good job or not!
If you've not had a read of the draft 5 year Strategic Plan yet, go take a look. I'm maybe a little biased as I feel like the webinars are my baby, but I think we easily help hit several of the objectives of the Strategic Plan: passing down of knowledge; strengthening relationships with other Learned Societies; and of course Engagement and Outreach. We've got an Extraordinary General Meeting to discuss it this week, which you're very welcome to attend, just email admin@srp-uk.org to reserve your place.
Speaking of webinars, don't miss our next webinar on Thursday 15th December, our last one of the year, on Transport Activities for Class 7 Material.
Until next time…I'll be frantically working on my RPA recert!
Sarah Hunak
engagement@srp-uk.org
Twitter: chai_khaneh