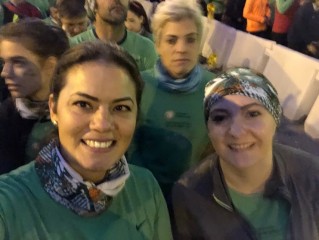 Happy New Year! ¡Feliz año!
Here in Spain, the New Year starts with the tradition of eating 12 grapes, one on each chime of the clock bells at midnight to bring luck. One grape (and a wish) for each of the upcoming months of the year. It got me thinking about the coming 12 months of SRP, in our 60th Anniversary year, which is an incredible feat. At the risk of sounding old, I remember our 50th anniversary conference in Harrogate like it was yesterday; it was my first year that I had a go at presenting, and I was TERRIFIED! It was probably also the first year I started to get actively involved in SRP and join committees. Something that has grown and grown over the past 10 years. I'm now on four different committees, a Trustee, and Director of Engagement. It's a lot, but it's also incredibly rewarding, and I love it! it's also a great opportunity to have your say in the way the Society runs. There's a current call out for committee volunteers in the SRP Weekly. All the information is here, and it would be great to see some new faces on committees, so if you've been considering it but not quite gotten around to investigating further, then this is your sign!
Another Spanish New Year tradition is to run a nocturnal 10km race on New Year's Eve; the San Silvestre Race. If you're interested, I'd recommend Madrid over Toledo, as Toledo is far too hilly! But this is an obvious point to plug the SRP 5k race in Aberdeen this year before the conference starts 😉. It's open to everyone to run, jog, or walk along the 5k route, to blow away the cobwebs before the main event of the conference begins.
Some good news to start the year was that I passed my DGSA exams, which was such a relief and means I don't need to worry about them for another 5 years now. Now the stress of the course and the exams is over, I can appreciate how good it was to refresh my knowledge again and delve into the dark art that is radioactive materials transport; I've definitely learned a few new things I'll be implementing at work. In almost perfect unintentional timing, we had the final webinar of the year in December on Transport of Radioactive Material. The recording of this is now up on our YouTube Channel – go and subscribe! And the presentation and Q&A are posted on our website. I've already rewatched it once, and I'm sure it won't be the last time. Thanks to our three brilliant speakers for helping to demystify this subject; and look out for an exciting programme of webinars to come in 2023.
Some other exciting news is that SRP President, Jim Thurston and I will be attending the British Nuclear Showcase Reception in the House of Lords next Wednesday for Nuclear Week in Parliament. This will be a chance to showcase the great work the Society does in the world of radiation protection within the nuclear industry and we're very much looking forward to it!
The final tradition (that I'll mention in this blog, there are many, many more!) for a Spanish New Year is that many people believe that to kick the New Year off on the right foot, you have to literally use your right foot, and so the first step you take after the bells chime should be with the right foot. So, let's put our best foot forward into 2023, our 60th Anniversary Year, and raise a glass to many more years of SRP to come!
Sarah Hunak
engagement@srp-uk.org
Twitter: chai_khaneh