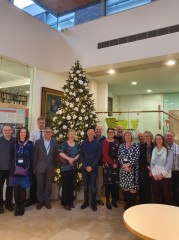 Hello All!
Who would believe it has already been 7 months since taking over as SRP President?! And what a busy period it has been, both within SRP and my day job in New Nuclear Build, and not to mention moving to a new house.
Earlier this year when I took over as President, I spoke about the challenges that face our profession on not only a national but international level, and the 3 "Key Themes" I will be focusing on to tackle these areas. These were:
SUSTAINABILITY of the Profession and Society

Working in SYNERGY with other organisations, and

Improving COMMUNICATION with Internal and External Stakeholders
With Christmas upon us I thought I would take the opportunity to provide an update on these areas. Please click on the link to find out more!
I am truly proud of what SRP and our members have achieved in the last few months, from the licensing of SRP to award 2 new grades of professional recognition, to the expanding collaboration of SRP on a number of work-streams both within the UK and abroad.
This would not be possible without the hard work and support of our volunteers and admin team and I would like to thank them both for their continued support.
I hope this update is useful and should any of you wish to discuss any parts my door is always open! So please get in touch!
I hope you all have a Merry Christmas, a Happy New Year and also a well-deserved break! I thank I look forward to seeing you all in 2020 and continuing to push our field forward!
Best Wishes
Pete Bryant
President of the Society for Radiological Protection