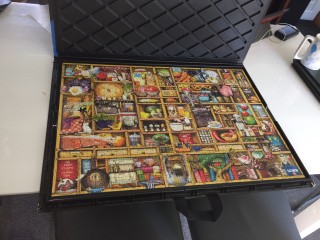 You know life is weirder than weird when going 'out out' involves a trip to your local supermarket rather than bars and clubs. Along with most of the rest of you out there, I am now in my eleventh week of working from home.
There are bits I enjoy, my commute has reduced from half an hour door to door to a trip up the stairs to the spare room, and I get to have lunch everyday with Mr H with the kids. Spending more time looking at nature (there are some immense neighbourhood rivalries in our garden, the blackbirds are the worse).
There are bits I miss – the conversations with the team and my other colleagues. Bumping into someone I haven't seen in ages at a site wide meeting. Being away from home for longer than a couple of hours. The kids being out of the house.
There are bits I hate – the fact we don't know when this will end, the uncertainty of it all and restrictions on meeting people, which is starting to ease now but slowly.
What we do know is there will be a new normal, at least for a short while and some of the things we have been forced to do will stay but currently it is hard to say what these will be. I know which I would like to keep, the exercising with the family, the increased focus on family learning and the time to watch nature.
We do enjoy baking and seem to be baking up a storm at the moment as both girls enjoy it and then we have cake to eat. We have a recipe which was my Great Gran's for Ginger Cake, which we have made a couple of times since lockdown. It doesn't keep well but is delicious as a pudding with cream or custard on the second or third day. I think we maybe need to branch out into bread…
Talking of going back to school, with the Prime Minister's announcement on the 10 May about when kids might be going back and who will be first, Phoebe will be going back sooner than Isobel. Mr H expected next year's exam groups (years 10 and 12 or 4th years and lower 6th in old money) at secondary to be some of the first back. At least we have an idea on what will happen, even if we don't know definitely when.
Both girls have been looking at some of their girl guiding badges as part of the home learning schedule and because we thought it would make a change from school work. Phoebe has completed 3 rainbow badges (one on her family tree, one on vegetables where she made up a song and one on helping) and Isobel has completed a Brownie badge (on painting) and started another two (baking which we just have a practice birthday cake to make and performance). Going to be a lot of sewing to do once they get the actual badges.
Isobel and I have discovered a shared passion for jigsaws. We did the 200 and 500 piece ones we had in the house already and decided we needed a bigger challenge so I ordered a 1000 piece one. I didn't check the size and thankfully it just fits into the jigsaw box we have. We have had a couple of good goes at it and will continue to, but like other complicated things, some time away from it gives clarity when you return to it - now completed (photo above).
SRP has been busy with their first webinars – the attendance was very good and I would recommend them to anyone who has an interest in the subjects. They are also very good CPD which might be difficult to come by presently. The next one is the 'IRMF Meeting' on 17 June, closely followed by 'An Introduction on Liquid Scintillation Counting' at 12noon on the 19 June. If there are any areas you think SRP should consider delivering a webinar on then let us know: admin@srp-org.uk.
The SRP President has launched an SRP YouTube channel with his first Video Blog. He is brave, I am not sure I could do that.
Everything seems to take so much longer when we are working from home, maybe it is just the lack of focus due to the extra distractions, (you never stopped work at work to just put the washing out, did you?) or the fact you can hear the kids falling out in lumps. Is it the not quite as comfy as usual workstation or unfamiliar systems we are all using. Had anyone really used Zoom or Microsoft Teams before March this year? We had some useful advice from our company psychologist – basically to not compare how we were before the epidemic to how we are now, this is an extremely unusual time and no one was prepared for it. We all deal with change in different ways, so it is less important that we do everything we used to do and more important we look after each other and do what needs to be done. Sometimes that means I am helping Mr H with the kids rather than working because I would not be able to work if he is overwhelmed looking after the kids. So pick your battles and be kind, to yourself and your household, you may be stuck with them for a little while yet.
You can get in touch on the usual details.
Jennifer Humphries
SRP Director of Engagement
Twitter - @jenkhumphries
Email - Engagement@srp-uk.org