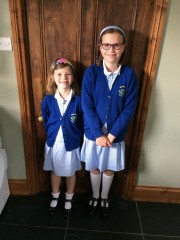 September is a bit of a big deal in our house. With two kids at school and a part-time teacher husband the new school year is a time of change. This year it was worse than usual as there were the COVID-19 controls to get our heads round as well as us all trying to remember whether the fact it is Tuesday means the kids were getting the bus to school or going to breakfast club.
For me it is more momentous than a new calendar year for a fresh start and clean page, and the start of the return of the winter cold. You know the cold crispy sunny days when you can see for miles and your breath is visible.
My eldest has started her final year of primary school and we have until the end of October to apply for her secondary school. She wants to go to the local school with all her friends, but we are being open minded and have attended the virtual open evenings to see the other schools. She was thrilled to see her dad in the video for his department at his school's version. She likes the idea of attending the school he teaches at, but it is a Catholic school and we aren't Catholic.
Another thing I can rely on every September is that all three of them are knackered when they get home. Doesn't help that Mr H has agreed to not having a whole day off this year, so he is teaching five days a week for the first time in six years and hadn't taught in a classroom since March. There have been a fair few early nights recently in our house.
I am still working from home the majority of the time, which is weird now the house is quiet all the time. My role at work is changing; the area I look after is getting bigger, so I am getting more team members and will have to change how I do what I do, as I have yet to master the skill of being in two places at the same time. Still, I have got a couple of weeks to get my head round it, and it is slowly coming together.
In SRP world, we had the Engagement Directorate Board this month and virtual SRP Council is at the beginning of October. I am still getting used to virtual SRP meetings; the Council ones used to involve travelling to London and now they don't; it doesn't feel the same. I also used to read the papers on the train and now I have to remember to read them in the days before the meeting. There have been a couple of things like that – I usually stick my IOSH magazine into my work bag and have a read while I'm on the works bus to meetings. I had a tidy up and found four different copies round the house as I haven't been at work much never mind on the works buses (for those who don't know, yes, my work is big enough to need a bus to get from one side to another).
I was asked how COVID-19 had impacted my support to SRP recently and everyone else at the meeting said they had had more time; I was the only one there with kids at school and do you know what? I have done less. For the last 6 months, like lots of parents out there, if I haven't been working, or doing housework, I have been trying to keep the kids entertained. This does seem to be improving now school is back, but who knows how it will all pan out with the 'new normal' we all talk about.
The SRP SW Conference in October and the Recovery and Remediation following Radiological/Nuclear Emergency Workshop in November are both now going to be virtual events, meaning you can't use travel as an excuse not to attend.
The popular SRP Webinars continue and are still free to attend; the latest ones can be found on SRP's Event page. If there's a topic you would like to see included then please let us know at admin@srp-uk.org.
The SRP AGM will also be virtual (via Microsoft Teams) for the first time ever – you can find out more about joining this (free) event here (2pm on 6 October). If you haven't been before, there's usually a presidential summary of the year, as well as consideration of the SRP accounts, and any key issues to share with the members. I'll be there and I hope to see you (virtually) there too.
You can get in touch on the usual details.
Jennifer Humphries
SRP Director of Engagement
Twitter - @jenkhumphries
engagement@srp-uk.org