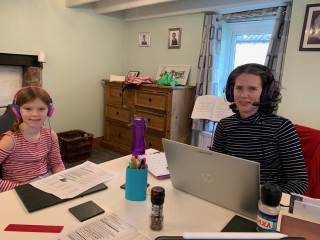 The observant among you will have realised I didn't do the SRP blog in December; Jim Thurston (SRP President) offered to do a review of the year and share with you some requests for help and support, and I couldn't say no. It was one less thing to do in a busy month and he got to have the experience of writing a blog.
I hope you all had a good Christmas. We had a Cumbrian Christmas, with my Dad, my brother and his partner travelling to join us, so we had a houseful. My brother moved over the summer from Berlin to southern England (currently near Milton Keynes but they will be moving to near Swindon in the New Year). The travelling time isn't that different (about 6 hours) but the mode of travel (in car rather than a plane) makes it more straight forward and means he can bring more things with him rather than us having to get them in – like his favourite coffee.
Mr H's family were also in Cumbria so we got everyone together for tea and cake Christmas day late morning for a catch-up and to see what Santa brought. The extra people (and a dog) made for a tight fit so we limited it to an hour or so. Great to get everyone together though.
But now it is January and while we were lucky to avoid it over the Christmas holiday period, COVID-19 finally got to our family this month with the 7 year old testing positive; she only had mild symptoms, and was bit off colour for a few days, but is now back to normal but off school for a whole week, while Mr H and I are trying to share working from home and looking after her.
It is slowly getting lighter earlier and darker later, and as I write this on 'Blue Monday' (apparently the most depressing Monday of the year), I am minded of all the great things we're planning for the rest of the year (assuming normal life gets a look in). Currently on the list are Disneyland Paris (booked for the third time), Big Bang Science Fair (which is in June – volunteer request is imminent), SRP Annual Conference in Llandudno (also in June) as well as a couple of holiday trips in the tent.
In SRP world, the second issue of Radiation Protection Today was sent to the printers in December and has now been released to our members and the public. The December issue of JRP has experienced a printing delay so the two were decoupled to allow us to get the magazine to you as soon as possible. It will also be the first Engagement Directorate Board meeting of the year early next month in preparation for the first SRP Council meeting of the year in March.
SRP Council elections opened in November and the post of Director of Engagement was advertised. I am coming to the end of my second term in the role and so won't be reapplying as it's time for someone else to have a go at it; hopefully I will still be supporting SRP in another capacity but you will have to wait and see…..
You can get in touch on the usual details.
Jennifer Humphries BSc CRadP MSRP TechIOSH
SRP Director of Engagement
Twitter - @jenkhumphries