Member Profile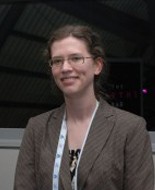 Jennifer Humphries
Role: Safety Advisor
Company: Sellafield Ltd
Career Summary:
Jennifer has a degree in Biochemistry with Biotechnology and Industrial Experience and spent her industrial experience year at BNFL Springfields where she was introduced to safety in the nuclear industry. She enjoyed it so much she applied for BNFL graduate recruitment and has been working for BNFL, British Nuclear Group, and Sellafield Ltd ever since.
Jennifer started as a graduate trainee safety advisor in Legacy Silos area in September 2004 and moved in July 2008 to Thorp Fuel Services as a senior Safety Advisor. While in this role she has been involved in the commissioning of the Multi Element Bottle removal facility and Interim Store enabling the removal of MEBs from the Storage ponds allowing pond space to be freed up for the long term storage of AGR fuel when reprocessing at Sellafield site ceases.
Career aspirations:
Jennifer is trying to become an RPA and would like to take on the role as Area Safety Manager at Sellafield site.
Involvement in the SRP:
Jennifer was volunteered to help with SRP in 2009, was asked to become involved in setting up the 'young person's group' under goal 5 of the original strategic plan, and is a founder member of the Rising Generations Group. She helped organise the RPA workshop in Edinburgh in October 2011. In 2012 she was elected to SRP council and is the first RGG member to be on council, giving the people young in their career a voice at the heart of SRP.
Tell us a bit about yourself:
Outside of work Jennifer has a little girl, a husband and a house to look after and in her spare time plays netball.