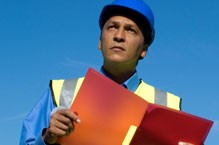 Summary
This event was organised by the SRP Rising Generations Group (RGG). The aim of the day was to give advice and support to anyone preparing their first RPA 2000 application.
The programme was designed to provide useful information, hints and tips for people at all stages of the application process.
The morning session provided an introduction to the RPA application process and information on what assessors are looking for in a portfolio.
The afternoon session provided some more detailed advice with ideas for filling gaps in a portfolio and a 'problem clinic' workshop during which current RPAs were asked for help or advice on a particular aspect of a portfolio.
Programme
0900 Chairperson's Welcome Lindsey Bobrowski, Aurora Health Physics Services
1050 Q&A Session
1330 Chairperson's Welcome -
Bob Kerr,
RP Alba
A chance to ask questions about your RPA portfolio to the day's speakers in small discussion groups
1520 Problem Clinic Workshop Part 2 Stan Batchelor, Guy's & St Thomas NHS Foundation Trust, London, RPA Assessor
A second opportunity to ask the speakers questions about your RPA
A report on the day will be available shortly.
Click here to view photos from the day.