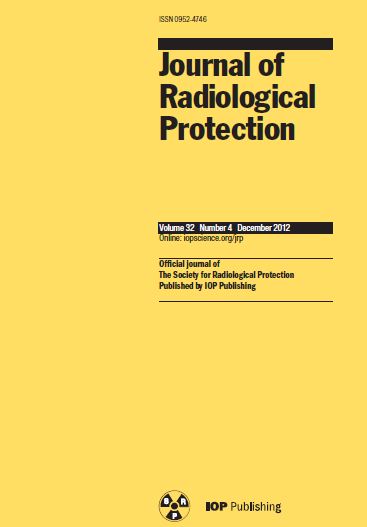 The Official Journal of the Society for Radiological Protection
Journal of Radiological Protection publishes articles (in English) on all aspects of radiological protection, including non-ionising as well as ionising radiations. Fields of interest range from research, development and theory to operational matters, education and training. The very wide spectrum of its topics includes: dosimetry, instrument development, specialized measuring techniques, epidemiology, biological effects (in vivo and in vitro) and risk and environmental impact assessments.
Editor-in-Chief: Prof Mike Thorne
Deputy Editor: Dr Richard Harbron
2022 Impact Factor: 1.5
Fast Peer-Review: Average submission to first decision time < 40 days
Free access to SRP members - click here.
The Journal's website is available here. Non SRP members will be able to view abstracts and open access papers.
Reasons to Publish in JRP
Fair and constructive refereeing process
Worldwide visibility and truly international authorship
Free to publish with no page charges (for non open access articles)
Open access option
Rapid publication times with accepted articles online within 24 hours
Excellent author service - dedicated team to answer your queries
The Bernard Wheatley Award
The Bernard Wheatley Award is presented at each Annual Meeting to the best Paper, Review, Note or Practical Matter article published in JRP during the calendar year prior to the Annual Meeting. For full details click here.
2021 Virtual Estimation of Effective Dose in Neutron Fields Vol 41 (June), 360-383. Lead Author: Jonathan Eakins, UKHSA
2020 On the use of retrospective dosimetry to assist in the radiological triage of mass casualties exposed to ionising radiation Vol 40 (Dec), 1286 – 1298. Lead Author: Carlos Rojas Palma, Belgian Nuclear Research Center
2019 Study of the responses and calibration procedures of neutron and gamma area and environmental detectors for use in proton therapy Vol 39 (March), 250 – 278. Lead Author: Adela Carnicer, Centre Antoine Lacassagne (CAL), France
2018 Comparison of normal tissue dose calculation methods for epidemiological studies of radiotherapy patients Vol 38 (June), 775-792. Lead Author: Matthew M Mille, National Cancer Center, USA
2017 A review of uncertainties in radiotherapy dose reconstruction and their impacts on dose-response relationships Vol 37 ((March) Lead Author: Jérémi Bezin, INSERM, France
2016 Dispersion of positron emitting radioactive gases in a complex urban building array: a comparison of dose modelling approaches Vol 36 (Dec) Lead Author: David Gallacher, Guy's & St Thomas' Hospital, London
2015 Luminescence-based retrospective dosimetry using AL2O3 from mobile phones: a simulation approach to determine the effects of position Vol 35 (June) Lead Author: Jonathan Eakins, PHE, UK
2014 3D simulation as a tool for improving the safety culture during remediation work at Andreeva Bay Vol 34 (Dec) Lead Author: K Chishov, Ministry for Health, Russia