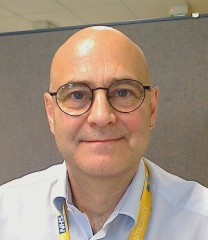 This webinar, presented by Jim Thurston, gave an introduction to the Ionising Radiation (Medical Exposures) Regulations 2017. View the presentation and question and answer document (member access only, if you're a non-member and attended the webinar, please email charlene.cartwright@srp-uk.org to gain access to the presentation). The video from the webinar can be watched below.
Jim Thurston, President-Elect, Dorset County Hospital
Jim is a Registered Clinical Scientist specialising in Radiation Protection and a certificated Radiation Protection Adviser, with over 30 years of experience working in Hospitals in the UK. In April 2020 he took up the role of Head of Medical Physics and Healthcare Technology at Dorset County Hospital. Prior to that, from 2008 to 2020 he was the Head of the Radiation Protection and Dosimetry Service at the Royal Marsden Hospital in London, managing an Approved Dosimetry Service providing Whole Body and Extremity Thermoluminescent Dosimetry (Beta, Gamma and X-Ray).
He is currently SRP President-Elect for 2020-21.
During his career to date he has gained extensive experience in Radiation Protection applied to Diagnostic Radiology, Nuclear Medicine and Radiotherapy, and to in-vitro laboratory use of Radioactivity. He also has broad experience of Diagnostic Radiology Physics (QC), and in Non-Ionising Radiation Safety (Lasers, Mobile Phones, PUVA Cabinets, etc)