Measuring the Invisible - Activity Assessment of Radioactive Waste
01 April 2021
Free Webinar, 12:00 - 13:00 (GMT)

This webinar looked at how to generate activity assessments for radioactive waste. The most common methods were discussed as well as why an activity assessment is required. Some practical advice about error traps will also be shared.
The presentation can be found here (member access only) and the video of the webinar can be found at the bottom of this page.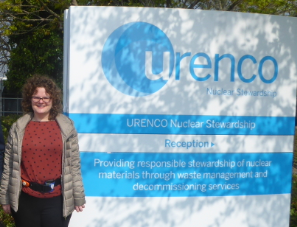 Presented by Stephanie Bloomer, Urenco
Stephanie has a PhD in Physics and Computer modelling. Her background is in health physics, simulation, modelling and the manipulation of data. Stephanie has 12 years nuclear industry experience and is an accredited Radioactive Waste Advisor.
In her role for Urenco Nuclear Stewardship, Stephanie provides advice to the Capenhurst site on matters concerning characterisation of radioactive waste, of land, and of building structures. She leads on the procedures for clearance and exemption of wastes and materials. She is also provides oversight and technical support for all waste assay systems at Urenco Nuclear Stewardship.