News Article
First IRadP Awarded
News Story from 4th Nov 2020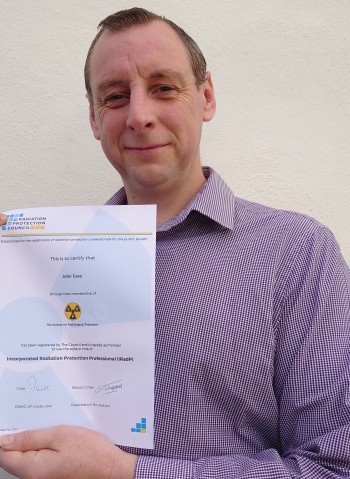 This year SRP satisfied the requirements of the Radiation Protection Council and was licensed to admit members to the RPC's professional register and award the new designations of Incorporated Radiation Protection Professional (IRadP) and Technical Radiation Protection Professional (TechRadP) in addition to the familiar CRadP.
SRP member, John Case, has become the first member to achieve IRadP. John, a former submariner, has worked in Radiation Protection for a number of years in both operational and decommissioning roles. He is now a Radiation Protection Technical Adviser at Urenco UK (Capenhurst) and is currently working towards RPA accreditation. He sees the attainment of IRadP as a mark of his professionalism in the field. John said; "I made the decision to apply for IRadP as I felt that this would provide my current employer, along with any possible future employers or clients, the assurance that I have gained a recognised level of professionalism and understanding within my chosen career, while assuring them of the high quality I strive to attain through my personal working ethos and standards."
John now becomes the first IRadP holder to be placed on the RPC's Professional Register. Let's hope he will soon be joined by others in IRadP and TechRadP. More information on both IRadP and TechRadP and details of the application process can be found here.
New Dental Guidance Published
Posted 28th Oct 2020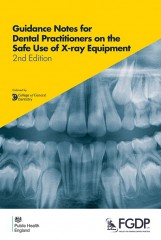 The 2nd edition of 'Guidance Notes for Dental Practitioners on the Safe Use of X-ray Equipment' is…