News Article
New Honorary Fellowships Awarded
News Story from 8th Jul 2021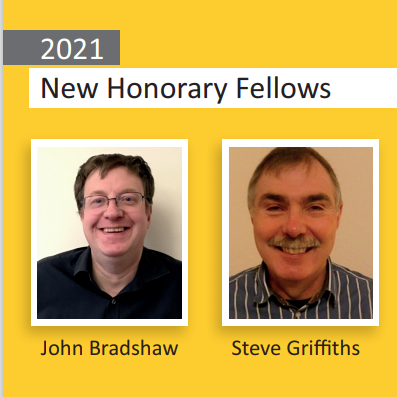 At yesterday's Annual Dinner in Bournemouth John Bradshaw and Steve Griffiths were awarded Honorary Fellowship.
John Bradshaw
John has been a key supporter of SRP activities for many years. He is the current Chair of Events Committee and has been a member of the Committee since 2005. In the days when the Annual Conference was a bit smaller than it is now, he calmly looked after all the liaison with speakers regarding their audio-visual requirements, loading their presentations on his laptop, often at very short notice. And he was always in the sessions before everyone else (even after a late night at the Annual Dinner on the evening before). John has also been being a longstanding member of the Legislation and Standards Committee.
John started his career at UKAEA Harwell and joined the Radiation Protection team at AWE in 1995. Here he has provided RPA advice to almost all the facilities on site including all the radiological new builds. John is recognised as one of the few who have the capacity to calculate 'on the fly' with an encyclopaedic knowledge of isotopes, physical data quantities, physics mechanisms and history of site. He was appointed the first Head of Profession (Radiation Protection) at AWE. Full citation
Steve Griffiths
Steve was elected as SRP's first Director of Science and Technology in 2018 (following SRP's restructure) with responsibility for the new Directorate and its nine committees. Prior to this he was Chair of SRP's Legislation & Standards Committee from 2002-11 and is a current member of the Governance Committee.
He played a key role in formulating the new management structure, ensuring that it supports the delivery of the Society's responsibilities as a chartered body. He has also helped to develop processes which address the Charities Act requirements and ensure good governance. A particular interest of Steve's has been the initiatives being developed to enhance SRP's range of training, development of membership categories and greater accessibility to a broader range of people that work across the profession.
Steve has had a long career across the nuclear industry from Heath Physics to Waste Plant Manager at Amersham International, a dockyard health physicist then a nuclear regulator for 30 years. Full citation
Inauguration of New President
Posted 7th Jul 2021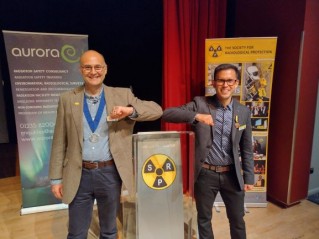 At today's AGM Jim Thurston became SRP's new President for the two year term 2021-23. He received…