News Article
SRP attends Parliamentary Links Day
News Story from 27th Jun 2023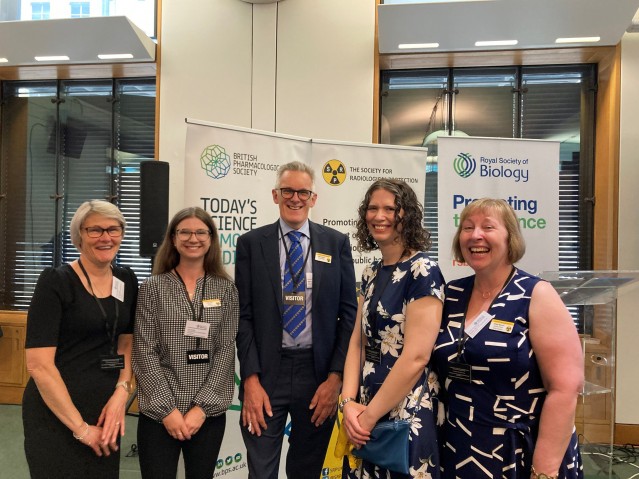 "Tuesday 20 June was marked by two memorable events, the first a torrential downpour amidst an extended dry and hot spell from the early hours until 08.00 precisely, and the second was an invitation as a representative from SRP (together with Jennifer Humphries, Amber Bannon, Val Atkinson and Lisa Smith) to attend the annual Parliamentary Links Day at the Houses of Parliament. This is an annual event aiming to strengthen the dialogue between the scientific community (science and engineering), MPs and Peers.
"We met outside Portcullis House prior to negotiating security, much akin to any airport; all possessions in trays, walk through body scanner all overseen by two policemen armed with submachine guns.
"The theme of the Day was 'Science and Economic Development' hosted by the Chair of the Parliamentary and Scientific Committee, Stephen Metcalfe MP and organised by the Royal Society of Biology. Seventeen professional Scientific societies, including SRP were represented.
"The challenges and opportunities for the scientific community in progressing and translating scientific research and discoveries were addressed particularly as they are inextricably linked to economic development. It was refreshing to hear that the Minister of Science, Research and Innovation George Freeman MP and the Shadow Minister for Business, Energy and Industrial Strategy Chi Onwurah MP despite being on opposite sides of the house, were in broad agreement over the current state of UK science and the actions required to accelerate progress of both R&D and its translation into products/results. This was followed by a stimulating panel discussion with four scientific experts representing different areas of science research and policy and a Q&A session from members of a packed audience covering a wide diversity of topics The session ended with a keynote address from Professor Dame Angela McLean, the Government Chief Scientific Adviser.
"The lunch break afforded a good opportunity for networking and this was used fruitfully by our President who presented Professor Dame McLean with the latest edition of 'Radiation Protection Today' and informed her that SRP would be at the Big Bang Fair in Birmingham over the next 3 days (as Professor Dame McLean had mentioned in her address that she would be visiting the Fair).
"This was an excellent meeting and while the current state of the world in general and that of the UK in particular may lead to a degree of pessimism it was heartening to see that politicians are very aware of the urgent necessity for improving many of the issues currently hindering and/or limiting the progress and realisation of science R&D. They are listening!
"I haven't gone into further detail on the content of the day as the Royal Society of Biology has produced an excellent summary."
Written by Mike Lockyer.
Photo above, LtoR: Val Atkinson, Lisa Smith, Mike Lockyer, Jennifer Humphries and Amber Bannon
Women in Engineering Day
Posted 23rd Jun 2023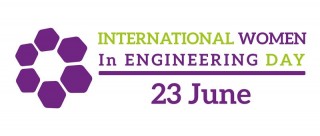 This year's theme is 'Make Safety Seen' and we're delighted to announce that SRP Fellow and Honorary…