News Article
Young Professional Award - Entries Needed by 31st March
News Story from 24th Mar 2017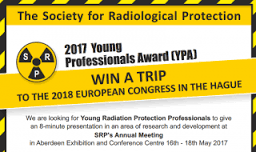 With a week to go before the Young Professionals Award closing date of 31st March, there is still time to enter. It is an excellent opportunity for those in the first ten years of their career to gain presentation experience and help career development - plus a fabulous prize for the winner....an all expenses paid trip to the European IRPA Congress in The Hague in June 2018.
Entrants will give an 8-minute presentation in an area of research and/or operational or practical implementation at our Annual Conference in Aberdeen on 17th May. The competition is not just for scientific research projects. The judges would also love to hear from people working in the practical implementation of radiation protection in all sectors/sizes of organisation who will share operational or practical approaches or solutions that they have been involved with developing.
All that is required at this stage is a 300 word summary of the project the entrant would like to present on. All entrants whose abstract is accepted get a free place at the Aberdeen conference on 17th May, when they give their presentation, and they can also apply for expenses, and free attendance for the rest of the conference.
Download the entry form and view the rules here.
SRP Stand a Big Success at The Big Bang Fair
Posted 20th Mar 2017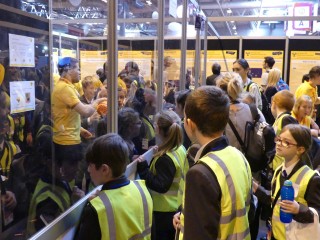 SRP's stand at last week's Big Bang Fair was extremely busy! The show is the UK's largest…