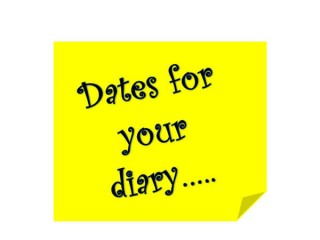 January. What a depressing word. It sums up all the grey drab days, when the sun is barely seen and everyone is either on a diet or broke (or both). But it is also a time of new beginnings, the start of a fresh year, a new diary and an opportunity to make those changes you have been meaning to.
One thing which is due is your SRP subscription. As an SRP member you should have got an email recently on what you need to do - and if you don't do it by end of March there is an additional £10 charge. (If I have just reminded you, then please consider sending some of the money I just saved you to SRP Outreach!).
January is a busy time in SRP world as nominations were due for the SRP elections early in the month and the SRP Committee Chairs are reviewing their Terms of Reference to ensure they are still appropriate and up to date. We also look back at 2018 and are required to submit a summary of the committee and directorate work to the Honorary Secretary for SRP's Annual Report.
SRP's Annual Conference preparations for Scarborough in May are hotting up and the early bird discount rate ends on 31 January - so get booking! I just saved you money again. Events Committee has now finalised the programme which will be available shortly and the social programme includes an Italian meal and the Rising Generations Group meal on Tuesday night. We also have the popular Annual Dinner on Wednesday evening which includes a three-course meal, a live band and of course dancing – certainly an evening not to be missed!
The other thing which you might be interested in is the Annual Call for Volunteers – when SRP publishes a list of opportunities on our committees and asks you (the great SRP membership) to put yourself forward to get involved in running SRP. It's how I became active in SRP; back then I ticked the box on the paper subscription renewal form and posted it back, but these days technology has moved on and it is now publicised in SRP Weekly. I am starting to feel old when I realise how things have changed – which is fair going when I am not yet forty.
And if you're interested in getting involved, there is a different kind of opportunity open to you. The Big Bang Fair is at the NEC in Birmingham is running from 13 - 16 March 2019 and SRP's Outreach Committee has a stand where we will deliver our outreach demonstrations. We are currently recruiting Outreach volunteers to man the stand, do the demos, and explain about radiation and radiation protection to the school kids. There are a small group of people (you know who you are) who repeatedly volunteer at our Outreach events and while we are very grateful to them, we are always on the lookout for more help. No restrictions on who can help – as long as you are willing to have a go then you can volunteer. Our experienced volunteers will help any newbies, showing them the activity before the show opens, leading a few so they can watch before letting them loose on the public, and then assisting so they can gain confidence.
The stand takes around 16 people per day to run comfortably for 4 days, so that's 64 person days of help needed. There are a select group of us who will be there all week (me included and I will probably lose my voice – again) but we are kept going by those who just drop in for a day or two and bring with them fresh legs, fresh voices and waves of enthusiasm. If you are interested in joining the #yellowtshirtteam please contact Sue (sue.irish@srp-uk.org) with which days you are available to help. As with any SRP volunteering, reasonable travel expenses will be reimbursed in line with the SRP expenses policy.
I didn't get to the December SRP Council meeting, as real life got in the way but the meeting progressed without me. SRP understands our volunteers have lives outside of work and SRP is usually at least third on the list of priorities, after paid work and your family. Now all I have to do is work out how to claim back the unused train tickets and work out whether I ended up with any actions!
Those of you who read this far last time know I set a challenge to name this blog – and there was a good splattering of responses from both SRP members and others who saw the request on Facebook and Twitter. I have sought some assistance in the decision and we will announce the new name – and winner – in next month's blog.
I hope you all had a good break over the festive period, some (enforced) family time and are now back ready to make a fresh start for 2019. Or at the very least, have a change of scene and different people to talk to, with less freely available food.
You can get in touch on the usual details.
Jennifer Humphries
Director of Engagement
Twitter - @jenkhumphries
Email - engagement@srp-uk.org