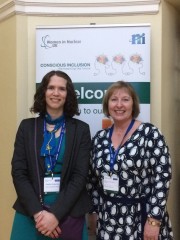 Since I wrote the last Blog, I have been representing SRP at the Women in Nuclear conference with SRP's President, Amber Bannon. We attended because SRP is working to equality and the topic of the conference was 'Conscious inclusion'.
We heard how the small changes, such as using gender neutral words i.e. Chair instead of Chairman, can make a big difference. Being a conscious role model and showing people what can be achieved is also important to inspire others. This is part of the reason for me doing this Blog, to show SRP members you can have a young family, a full time job and be active in running SRP. Sometimes I wonder why I do it, then I remember I am showing my daughters they can do whatever they want to do.
SRP has launched a Women's Network, to support SRP members, but it didn't take off. Feedback was that the name sounded like it excluded men. The Women in Nuclear group, which is part of the Nuclear Institute, does not t exclude men as they realise everyone working together is part of the solution, rather than excluding any particular group. This was the intention with SRP's group but clearly the message didn't get out there. While we have three out of four directors who are women, and a woman president, there are a lower proportion of active members who are women within our Council and Committees.
The intention of the Women's Network was to work to understand and attempt to solve this. I get the name might be the issue, but all we were trying to do is further understand the imbalance. We all know how bad I am naming things, so let's not go there, but I think we need a group to understand why specific groups of people (rather than just women) aren't an active part of SRP. I would welcome your input and views on this topic especially anyone who has good examples of why they aren't as active in SRP as they would like to be. My contact details are below.
Our Big Bang preparations are coming together – we have a cloud chamber as our new demonstration this year so Outreach Committee has to sort out an appropriate risk assessment, lesson plan and write the demonstration. We are still looking for more outreach volunteers to help out so get in touch with Sue (sue.irish@srp-uk.org) if you can spare a day or two between the 13 - 16 March in Birmingham.
Mr H (my husband) is a teacher and we have two school aged kids (8 & 4), so I will be having some time off with them all at half term, which will be brilliant. Because of this and the fact February is a short month anyway it always feels like February slips through my fingers and before I know it its March and all those monthly tasks need doing again (like writing another Blog post!).
February is my birthday month and we celebrated by taking the girls to see the Strictly Come Dancing live tour in Glasgow. The girls really enjoyed dancing and clapping along with the music and booing at Craig when he didn't give the couples the score we thought they deserved. It was in the SEE Hydro which is adjacent to the SEC where SRP hosted IRPA 13 in 2012 and brought back some good memories, and made me think how much has changed in the last seven years. Back then I helped out as a Chair's Assistant and kept an eye on their Twitter feed.
Do many of you Tweet? I know some people out there are voyeurs on twitter and while they have an account all they do is watch other people rather than joining in. That sounds boring to me. I have a twitter account (@jenkhumphries) and tweet when I remember about stuff – sometimes SRP stuff, sometimes the antics of my commute (there is a chatty bus driver who has featured a bit recently) and sometimes I just retweet or like things that appeal to me and I think others might like. Do you think SRP is tweeting the right things? If you find something other members would be interested in then ask @SRP_UK to retweet it.
There aren't any official SRP hashtags (which look like this #, usually with a word behind them) but we are trying to use #yellowtshirtteam for our outreach volunteers and #SRP2019 for the SRP's Annual Conference this year. If you want to get on to Twitter then following the official SRP accounts is a good start. There are a few of them @SRP_UK, @SRP_Pressie, @SRP_PresElect, @SRP_IPP (that's 'Immediate Past President – in case you were wondering) and @SRP_RGG, The President Elect and Immediate Past President accounts are only used when someone has the role but the others are relatively active – especially the RGG.
Those of you who read this far last time know I set a challenge to name this blog – there were a good splattering of responses from both SRP members and others who saw the request on Facebook and Twitter. Thank you to everyone who submitted a suggestion. I have sought some assistance in the decision but the winner is 'SRP Blog - Inside the Core' which was sent in by Stephen Naylor who saw my appeal on Facebook. Initially I thought the name was biased towards nuclear and not suitable for an SRP Blog, but during the judging someone else pointed out the double meaning with the core of SRP as well as a reactor. It is also my blog and I do work in the nuclear industry so it seems to fit. Stephen will receive a bag of super SRP goodies.
I hope you all enjoy the short month, and although I am tempted to start straight away with next month's blog post, I have just remembered I will be at Big Bang in March so it will focus on that.
You can get in touch on the usual details.
Jennifer Humphries
Director of Engagement
@jenkhumphries
engagement@srp-uk.org