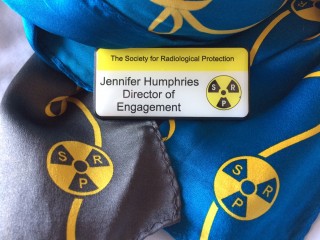 The Annual Conference (with AGM) is next week! SRP folk round the country are getting ready for our annual get-together to share best practice and build our networks. In my house, the kids are complaining about Mummy going away again and my husband has booked all the extra Nanna childcare requirements. I am slowly starting to gather my conference stuff together, making sure I have the relevant bits of paper (joining instructions, directions for hotel, hotel booking reference) and my SRP notebook for recording all those things I agree to do for people I speak to during the conference. It sounds silly but some of the best SRP business happens in the coffee/lunch breaks, and it is so much easier to have a quick word with someone than have to write them an email and hope they get back to you.
The exhibition is our largest ever and our exhibitors always have something interesting to show the Conference delegates; a new product or way of delivering something. Don't forget there is a quiz, where you have to visit all the exhibition stands for a chance to win a bottle of bubbly.
A couple of reminders for your packing list. Don't forget your SRP scarf or tie, we should be proud of our society and wear them with our heads held high. Anyone out there with a fancy badge remember to bring it! Above is a throwback to last year when mine was shiny and new.
I will be wearing different hats at the conference, and have plans to spend each evening with a different group of SRPeople (see what I did there!). We are travelling on the Monday so I will spend Monday night with my colleagues, which is a change as although we work at the same site, it's a big place and we support different facilities so getting together is a rare treat.
On Tuesday I am going to the RGG Dinner (as their Director – I am no longer an RGGer as my professional career is a bit longer than 10 years now) and will be able to catch up with their new Chair as Jess Heaps (formally Revill) is stepping down and Anthony Higgins is taking over. Jess has been amazing as RGG chair and achieved many things in her time. Launching the IRPA Young Generation Network and the SRP Mentoring Scheme are probably the biggest. Well done Jess! I will also be representing Council at the Dinner until the Presidents arrive, which is usually in time for pudding.
On Wednesday it is the Annual Dinner and while the rest of you have to remember to allocate yourselves a table by lunchtime on Wednesday as a member of Council I will be seated with our esteemed guests (and the rest of Council). This means I never know until the tables are published who I will be seated with and I like the surprise. Last year I ended up comparing homemade birthday cakes with one of the people I sat next to.
The Honorary Fellowships are awarded during the Annual Dinner and I enjoy hearing how people have worked in different ways for SRP to earn their fellowships. This year there will be a first – a posthumous fellowship for an SRP stalwart, Alan Marsh, who sadly passed away in March 2018. I think this is a wonderful thing for Alan to be recognised in this way and I know his family very much appreciate that we are showing how much we value his contribution to SRP.
During the conference there are a number of awards: the RGG award, the best oral presentation (Jack Martin Award), best poster (Philip Nicholson Award), best Article in JRP (Bernard Wheatley Award) and the Young Professionals Award. The Article that has won has already been selected by the Journal for Radiological Protection Editorial Board but the others are all judged during the conference. There is a lot of logistics involved, especially as all the decisions have to be made and the awards prepared, so they can be presented at the Annual Dinner. SRP couldn't do with without the support of the Judges, who will remain nameless to prevent any attempts at bribery.
Sounds exhausting doesn't it? But it is only 3 days and then it's a year until the next one, so it is worth it. I am also looking forward to the scientific programme (all presentations and posters) where you can learn about how RP works in other sectors or at other sites in your sector. Events Committee (led by John Bradshaw) have the unenviable task of collating the scientific programme from all the submitted abstracts, as well as determining who to invite to give specific presentations. Without their hard work we would all be sat in a room chatting to each other all conference, while that would be good for the first day, it would grate after a while.
I will be trying to remember to Tweet about it all as it happens! You can follow my twitter handle @jenkhumphries and the hash tag is #SRP2019.
So, if you are attending the conference, I will probably see you there. If not – why not?
You can get in touch on the usual details.
Jennifer Humphries
SRP Director of Engagement
Twitter - @jenkhumphries
Email - Engagement@srp-uk.org