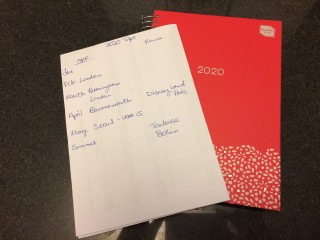 Happy New Year!
It's the 2nd January and I am sat in the office catching up on everything which happened at work while everyone has been off over Christmas and New Year. The plant I support is a 24/7 facility but 'day' people go on leave from the 23rd December so we have some catching up to do when we get back to work in the New Year.
This time of year is for looking forward and it is going to be a very busy time for me and SRP in the next few months. I have an SRP Officers meeting in February, then Engagement Directorate Board and I am volunteering for SRP at The Big Bang Fair in Birmingham NEC in early March, then it is SRP Council later in March. In April it is the SRP Annual Conference and AGM and in May is IRPA15 (11-15 May, Seoul, Korea) - I have also had my abstract accepted for this conference. I better get my diary up to date and making all the necessary arrangements. Better start saving up my brownie points with Mr H.
At home we are planning our holidays, there may be some camping, but we are also off to Disneyland Paris in April, and organising a trip to Europe in Summer to see my brother in Berlin, Germany and my best mate who lives in Toulouse, France. It is not our usual type of holiday but you need to do try different things sometimes. Now the kids are older (9 and 5) we are trying to stretch the boundaries a bit.
My kids have set their New Year's resolutions, the 5 year old wants to learn to ride her bike without stabilisers and swim without a float and the 9 year old has set herself the goal of being nicer to her sister…. We will see how that pans out!
Personally I will be attempting to revise my high school French (which is never brilliant with a Yorkshire accent) and being more physically active as well as resolving to finish more of my cross stitch projects.
If any of you have made a New Year's resolution to help others then the annual call for SRP Committee volunteers will be out shortly or if you feel like helping out with Outreach, we are currently recruiting Outreach volunteers for either The Big Bang Fair (11 – 14th March at NEC, Birmingham) or Edinburgh Science Fair (15th – 17th April in Edinburgh). My blog from March last year gives a bit of insight if you aren't sure what Outreach entails. Come join the #yellowtshirtteam! Email sue.irish@srp-uk.org if you can volunteer.
You can get in touch on the usual details.
Jennifer Humphries
SRP Director of Engagement
Twitter - @jenkhumphries
Email - Engagement@srp-uk.org