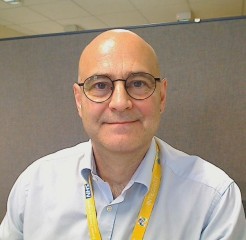 A lot has happened in the last six months. Now, that's a phrase one hears perhaps too often, but I think we can fairly claim that to be true of 2020! What started as quite a normal January, albeit with rumours and suggestions of a virus spreading in the city of Wuhan in China, was by the end of March anything but normal, with the start of lockdown restrictions in the UK following on from those already imposed in other countries in the far east and Europe.
Back in December 2019 before this all began, I was considering standing to become President-Elect of SRP. At the same time I was also being interviewed for the post of Head of Medical Physics at Dorset County Hospital, which was to be a significant move away from London after so many years (over 30) living and working in the capital. At that time I thought starting a new job at the same time as potentially becoming SRP President-Elect was perhaps going to be too difficult – and so I took some time to think about it and discuss with my family before agreeing that I could cope with the move to a new post if it was offered me, and the role of President-Elect if I was elected.
And so when I was offered the post at Christmas time I accepted with a proposed starting date around the middle of April. At about the same time I also formally put my name forward to be considered as the next President-Elect. As we moved into January I felt excited but happy that I could cope with both roles and whatever the coming year would bring.
And it brought Covid-19…..
Early in the New Year we had put our house on the market, and made several weekend trips to Dorchester during February and early March looking for a house to buy. By the middle of March it was obvious that a lockdown was coming, and life was not going to be normal for a while (how naïve we were back then). In mid to late March people with vulnerabilities were being urged to voluntarily self-isolate and where possible to work from home, and as I have asthma I did just that. At that time I had in any case what I thought was one of my usual tickly asthma-related coughs and so worked from home for the rest of March, returning to the office for just one morning during over two weeks away. I didn't have any of the other Covid-19 symptoms being reported at that time - I had no fever or aches and no shortness of breath, but I did lose my sense of taste (some would argue that I never had taste anyway….!), which at that time was not listed as a symptom. Much more recently I had the Covid-19 antibody test being offered to all NHS staff, the result being positive, implying that I did have the virus in late March (as I have not had any symptoms at any other time). Choosing to self-isolate and work from home back then was the right decision.
Anyway, plans for me starting at Dorchester in mid-April continued unabated, and given the lockdown we realised that moving into a new home was going to be delayed a little (naivety again). We had had an offer accepted on a lovely house in the centre of Dorchester, a ten minute walk from the hospital, and had accepted an offer on our house in London, but nothing would then be progressed due to the imposition of the lockdown restrictions. That meant that I'd have to move temporarily into hospital accommodation in Dorchester to be able to start the new job on time, with the intention of us completing the house sale/purchase and moving in as soon as possible afterwards. The hospital accommodation turned out to be quite basic – harking back to my days in student digs all those (35) years ago - but I was comforted by the thought that it wouldn't be for long – perhaps until the end of June at the latest.
It is now late July and I'm still in hospital accommodation….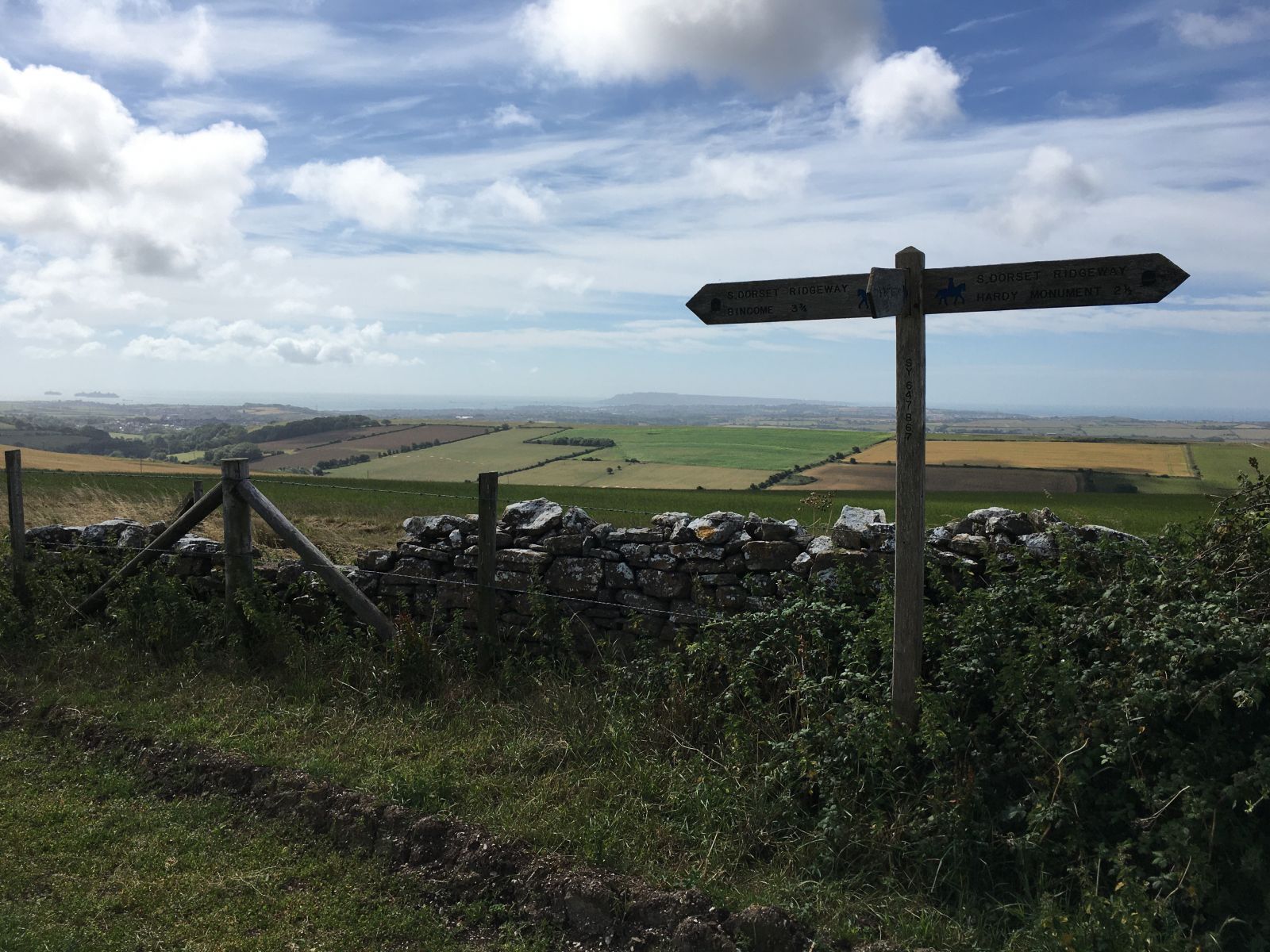 Of course, lockdown has affected all parts of the economy, including the property market and all the processes required to buy and move into a new house. The latest estimate puts our move at the end of August, and even that might turn out to be rather optimistic. In the meantime, the hospital is on my doorstep, meaning a five minute walk to work, and the countryside is only a fifteen minute walk out of the town in any direction (Dorchester being a small town of only around 20,000 people). This past weekend I took a wonderful hike onto the South Dorset Ridgeway (photo on right) to visit the Hardy Monument (of Trafalgar fame, rather than the author), and lunch in a lovely village pub.
And what of the impact of Covid-19 on the NHS?
The mainstream media have been full of justified praise for the NHS response to Covid-19 which has been nothing short of astonishing in such difficult circumstances. Hospitals and other medical establishments have had to respond and adjust their ways of working to the pandemic and the significant numbers of patients presenting with very serious life-threatening symptoms, and at the same time keep its staff safe, minimising the risk of infection. Obviously, my job as a medical Radiation Protection professional has been to continue to help my Employer to keep everyone safe - staff, patients and the public - from our use of ionising radiation. However it must be recognised that during a pandemic, Radiation Protection is not the first, second or indeed third priority for hospital management where patient diagnosis, treatment and infection control are of paramount concern! We have had to adapt our risk-based approach to determine what routine assurance tasks such as safety audit and quality control testing on medical radiation equipment can be postponed whilst keeping the risks of a serious untoward radiation incident, whether to a patient or a member of staff, to acceptable levels. That I hope we have achieved across the country, although we may never know for sure, even in hindsight, whether we made the right decisions.
The NHS is now trying to return to normal, whilst wary of the possibility of a second surge in Covid-19 cases. It is clear that we won't return fully to normal for quite some time yet, and patients and staff are going to have to continue to be adaptable and understanding of the ongoing situation. Indeed we may never get back to the normal as we knew it before. We are going to have to instead work within what is being called the "New Normal".
And the impact on SRP?
Well, firstly we were not able to run the Annual Conference in Bournemouth at the end of April this year, deciding instead to postpone it and run it at the same venue in March 2021, whilst we are now hoping to hold the AGM at the SW Conference in October. It was strange to become President-Elect despite not receiving that formal confirmation face to face at an AGM in Bournemouth, but rather through an announcement in the SRP Newsletter. I have in any case taken on tasks that were designated to Amber as Immediate Past President, attending a number of SRP Committees, and I have been introduced in those meetings as the "President-Elect" so perhaps it doesn't matter. Oh, and of course Pete Bryant as President has also found plenty for me to do already….!
In the absence of being able to meet face to face during and after the full restrictions of lockdown, everyone has been turning to the technology platforms available to run what would normally be face to face meetings as videoconferences – i.e. as virtual meetings. Before March, virtually none of us (pardon the pun) had even heard of Zoom or Teams. Now everyone is doing it! Indeed my wife's family, who live far apart from each other in England, Wales, Scotland and Finland, decided early on in lockdown to use Zoom to have weekly get togethers on a Saturday evening in a virtual pub atmosphere – everyone at home, but having their own favourite tipple to hand whilst chatting away as a group. It was quickly nicknamed "The Corona Arms", and has been a great success – in fact the family is talking to each other more often now than they ever did before - another New Normal!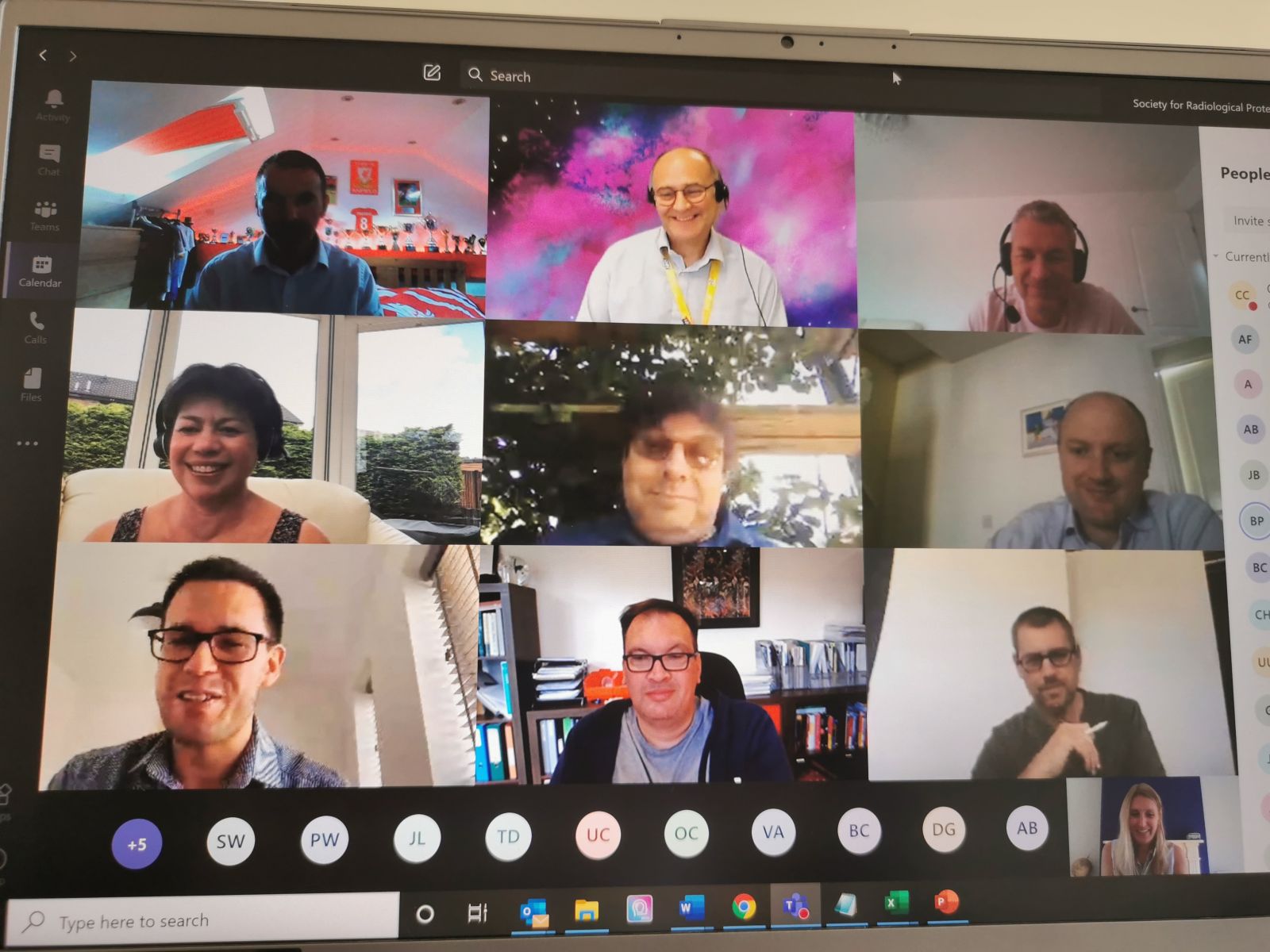 SRP, as with many other professional bodies, has grasped this new way of interacting –albeit perhaps without the favoured tipple - using the virtual meeting platform to run our committees and one-day and other events such as webinars (the photo on the left is of the recent Affiliated Organisation Forum that I attended). All have been so successful that they beg the question – is this a better way to run these events in any case, and possibly reach out to more members? Certainly we as a society will consider all the evidence from the meetings we have run during this time, the benefits and disadvantages, looking at the level of attendance and the feedback. However it is already clear that we should continue to consider the use of virtual meetings in future as an option for our committee meetings and our events. That may include combined events that are face to face but that also allow members to attend virtually. This will form part of what for SRP will become the New Normal.
One last question for us as individuals, in our work, and as members of SRP - When will we all recognise that we have settled into living in the New Normal? Well, to paraphrase the Hitchhiker's Guide to the Galaxy, "We will return to normality just as soon as we can work out what is normal anyway…" (And I would suggest that that will be no easy task!)
Jim Thurston, President-Elect
Email: jimthurston@nhs.net