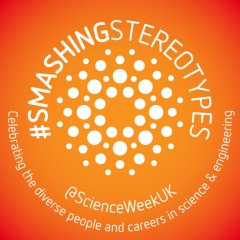 Ever been asked to do something and found it has taken on a mind of its own? I was asked to write a Tweet for SRP for British Science Week, so I let my brain wander and started to write. Before I knew it, I had written this blog on why and how I am smashing stereotypes within SRP.
I don't like being told I can't do something – I got into a fight at primary school with a boy as he told me I couldn't do something because I was a girl (we were both punished) and I have got more stubborn the older I get. I helped set up our Rising Generations Group when I was pregnant with my first child and have continued to support SRP through out my career. I was the first RGG member to be a Trustee of SRP and Member of SRP Council (which is the executive board of SRP) and the first SRP Council Member to take maternity leave. I was also one of the first Directors when SRP re-organised and set-up the current structure.
Why do I keep doing these things? Well, I believe in equality and if I have the same skills as someone who is already in a role why shouldn't I have a go? When I first joined SRP Council in 2012, the age and gender balance did not feel representative of the profession. Much has changed and when I re-joined SRP Council as Engagement Director in 2018, it was refreshing to see a more diverse group with a bigger spread of experience in the room.
SRP has provided me with a professional body and route to Chartership when I was a graduate and my HR department couldn't work out where to put a Biochemistry graduate working in what is perceived as a Physics profession. I have always had the support of two key groups - my employer and the SRP leadership team. I have been a strong advocate of busting stereotypes thoughout my SRP career, and I was supported all the way by the leaders of SRP, who have been a chain of people who were happy to try and allow someone relatively inexperienced to have a go at a number of increasingly complicated and responsible roles within SRP. I didn't have to fight to get these roles any more than any other member of SRP and that is a credit to the SRP leadership teams and the SRP culture of support to our volunteers.
Why is it important? I only realised this recently, but others see what I am doing and realise they can do it too. I didn't do it for this reason, but reflecting on it now, I can see how my SRP roles can inspire others to continue to support SRP when they have a young family, or to look at the Council or Director roles and think they can do them too. I am also starting to use my skills to mentor others into the best version of themselves they can be, which hopefully means we will continue to see a more diverse SRP leadership and membership for years to come.
Why is British Science Week important? Because it gives us a great opportunity to reflect on the importance science plays in everyday life, such as our profession and inspiring the next generation, especially as usually, at this time of year, SRP would be at The Big Bang Science Fair where we have the opportunity to inspire thousands of kids into Science and STEM (Science Technology Engineering and Maths). This year that inspiration will have to come from more virtual means, either through use of our lesson plans at school or home or through our Outreach material which we are looking to grow through our YouTube channel.
Stereotypes are just that – a perception of what a certain thing should be. What we need to do is realise that perceptions can change over time; 30 years ago being a working mum was very different to today, as an example. We need to do the best we can to get the message out that people who don't fit the stereotype, can do it too. They just need to do it bravely and with passion, so those like them can see it and follow in the footsteps they leave behind.
You can get in touch on the usual details.
Stay safe, be kind.
Jennifer Humphries
SRP Director of Engagement
Twitter - @jenkhumphries
Email - Engagement@srp-uk.org