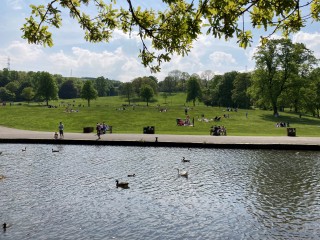 Slightly late (again) - the May one always gets lost in bank holidays and half term and this month has been busy. We had an epic time in Yorkshire – the wildlife park was awesome and the weather that day was gorgeous, and they got a mention on the radio this week as they are getting more polar bears. We spent some time at the Piece Hall (which subsequently starred on BBC Breakfast) and we also visited Shibden Park, which includes Shibden Hall where they film Gentleman Jack. West Yorkshire sure is going up in the world at the moment!
There is nothing like a deadline to get your adrenalin going – the Radiation Protection Today print deadline was 4th June and, with a few bumps and last minute issues, we got there and hopefully you will soon receive a copy of the new Magazine alongside your June copy of JRP. The first time is always the worst and I am sure we will get slicker as time progresses; well done to Trevor, Steph and the rest of the SRP Magazine Team who deserve a rest after almost weekly meetings getting the first issue sorted.
I think we were all lulled into a false sense of security with the recent warm weather; I only needed to think about getting the summer clothes out from under the bed for it to turn cool and rainy for a couple of days. I am hoping to be packing some summery clothes to go to Bournemouth next week – alongside my SRP scarf collection, my SRP badge – (Public service reminder to all SRP committee chairs and Council members: remember to pack your special badges!) and my SRP bag for life.
The delay to lifting of the COVID controls is many things (annoying and understandable being two) but it will allow more of us to get vaccinated before the Annual Conference, which will now go ahead with social distancing, masks and the rule of 6 in place which is manageable, but which I fear will put some people off. You can currently go on holiday (as long as you are selective on where to go) and meet people for a meal who aren't in your household, and this is all we are doing at the Annual Conference, just with an RP spin on it and with appropriate control measures in place.
The suitcase is out and I am slowly starting to put stuff aside to go in it – I am not one of these people who wait until the night before and throw everything in. I usually plan my outfits so I only pack what I need rather than taking lots of options. It seems to work, and I find taking my time gives my brain the chance to remember the things it forgot the first time.
I am currently sorting the transport – it is going to take 1 car journey, 2 trains and a half an hour walk to get from my house to the conference venue, not quite planes, trains and automobiles, but a long day travelling. One of my travelling companions pointed out it wouldn't be that bad, as we won't be travelling with any children who need entertaining, feeding and taking to the loo. I will be bringing a good book, a packed lunch and my iPad to keep me entertained.
Someone else is in charge of sorting the restaurants while a third person is looking after the hotel booking. It's great when there are lots of you travelling together and you can share the burden of organising things.
Stay safe and be kind
Jennifer Humphries
SRP Director of Engagement
Twitter - @jenkhumphries
Email - Engagement@srp-uk.org