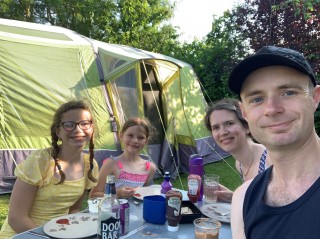 I hope you all managed to get some time off work to enjoy the summer weather (the good and bad bits) or maybe you still have some time off to look forward to? We had an epic two weeks camping, with 12 BBQs in a row before the weather was too bad and we retreated to cooking spaghetti bolognaise on our two ring gas cooker. It was a bit of a cathedral city tour, with us spending days out exploring Lincoln, Norwich and York, as well as countryside walks and beach days.
We haven't completely stopped since we got back; we had a few days at home then travelled to visit my brother in Bedfordshire for a long weekend, dropping the kids off with Nanna, Grandpa and Bella the dog on the way back so Mr H and I had six child free days. Mr H got his DIY groove on and did some minor plastering and painting, while I worked. We got to enjoy eating food the kids don't like and the house stayed tidier than usual. We also caught up with one of Mr H's university mates who we haven't seen for a while and went on a 10 mile walk around Derwentwater, further than we have been for ages, mainly as the kids can't walk that far. We were a little sore by the end of the day but the weather was kind and the conversation was good.
The final trip of the summer is a local staycation to a campsite only half an hour away next week. It doesn't sound much but it makes exploring that bit of the local area easier and we are away from home which we all find relaxing.
September will be here before we know it, bringing with it the return to school and, for the first time, we will have people at three different ones. Mr H teaches at a secondary school in Whitehaven, the eldest will be starting at the local secondary in Egremont and the youngest will be back to primary school; not looking forward to them all bringing back colds!
Also, in September we are having a face to face SRP Council meeting (with appropriate COVID risk assessment and controls) in London, so I am currently starting to look at trains and hotels to get to Council for the first time since February 2020. And our Patron, Lord Carlile of Berriew, is hosting an SRP Council dinner to meet Trustees the night before, so I will be travelling down slightly earlier than usual so I can get there in time (fingers crossed no delayed trains). It will be odd seeing Council in person rather than on Video conference but it will allow us to progress other business around the edges of the meeting as well as network between ourselves and with our Patron.
And face to face meetings are gradually returning at work as well; I recently went to work for one which isn't something I have done for a while. Usually, I go to work to look at a job or do something that can't be done at home, but the meeting was tied into plant visits so we did it face to face in one of the conference rooms. We still have COVID-19 controls in place and these were all adhered to. It was good to meet in person more of my RP colleagues who I have spoken to lots over MS teams but not seen since before March 2020. Long may it continue.
The new SRP Magazine Radiation Protection Today should have been with you last month, along with your printed copy of The Journal of Radiological Protection (JRP), or a link emailed to you if you access JRP online. The electronic version has more functionality with live links to other websites and some additional content. I hope you enjoy it - it's aimed at being a practitioner's publication whereas JRP is an academic journal. Work starts soon on Issue 2 (available in the winter), so make sure to get your feedback, ideas and suggestions to the Magazine Team on their email address RPToday@srp-uk.org. There is also a Front Cover Photo Competition which closes on 31st October to link to the theme of Building the Future. Get your thinking caps on!
You can get in touch on the usual details.
Jennifer Humphries
SRP Director of Engagement
Twitter - @jenkhumphries
Email - Engagement@srp-uk.org