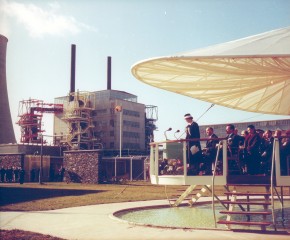 October is many things, Black History Month (which celebrates the role of people of African descent in history), Stoptober (a campaign to encourage people to stop smoking) and Breast Cancer Awareness Month, as well as when the clocks change, moving us move back to GMT from British Summer Time.
This month is also the 65th anniversary of the official opening of the world's first nuclear power station at Calder Hall at Sellafield. As the current RPA for Calder Hall, it would be remiss of me not to give it a little mention. The plant ceased power generation in 2003 and defueling was completed in 2019. Some of the Calder Hall site is currently being remediated to allow reuse of the land for new facilities to treat effluents generated across Sellafield site. It looks a little different to the old photos of the Queen when she officially opened the site all those years ago (photo above courtesy of Sellafield Ltd).
It is definitely getting colder and my winter clothes are now back in the wardrobe. I have started wearing my fingerless gloves when I am working from home and we are now back in the office for most of our time, usually 3 days a week but more if required. I am surprised how much more tired I am just getting up and going to the office at work (rather than the spare room). I am out of practice at small talk and the introvert in me actually quite likes the lack of distraction of working from home. That's not to say there aren't benefits to being at work, I got to ask someone about something just because I saw them and passed on some top gossip, which eventually turned out not to be true, but that's the thing with gossip!
SRPwise, we are progressing at pace with Issue 2 of Radiation Protection Today and thank you for those who got in touch regarding the inaugural issue, even if it was just to say well done. The Magazine Team welcomes any and all feedback to their email address RPToday@srp-uk.org.
Preparations are on-going for the SRP Annual Conference next year, with the deadline for oral abstracts at the end of October, so get your thinking caps on and your typing fingers out. A small delegation visited the venue recently and plans are moving forward for what the conference will offer next year.
At home, we are all looking forward to the first half term of the school year and now have our fingers crossed no one becomes COVID positive before then. We have some plans for Mr H and the eldest to attend a live music concert (for a famous brass band of course) and a couple of family days out planned over half term.
Those regular readers may remember we planned to go to Disneyland Paris in 2020, and we have finally rebooked for summer 2022. I had to get the kids passports renewed prior to booking it, as it is clearly bad luck to book something without having an in-date passport. It is good to have things to look forward to, and this won't be the only thing as we have agreed to do a short break to Alton Towers with the kids probably at Easter. With the SRP Annual Conference in June in Llandudno, the 2022 calendar is filling up nicely.
You can get in touch on the usual details.
Jennifer Humphries
SRP Director of Engagement
Twitter - @jenkhumphries
engagement@srp-uk.org