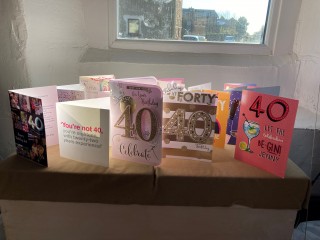 Well reader, it finally happened. I am now 40 years old, a milestone I was keen to point out to people that I hadn't reached yet, is upon me. I am not sad to be progressing in years, in fact I am somewhat glad to be saying goodbye to being young and embracing all middle age brings. Slightly comfier shoes, nights out where you can hear the other people without having to shout too loudly, and knowing myself a bit better. The celebrations will continue throughout the year as COVID caused some uncertainty around planning late last year. We went to see the Strictly Come Dancing Live Tour in Glasgow the weekend after my birthday, we're going to Alton Towers with the kids during the Easter holidays and I am planning a weekend in Manchester with some mates in May. You have to get the most out of such a big birthday.
Elsewhere we had a good time in Yorkshire for half term, with some trips out to local sights such as the Piece Hall in Halifax and Skipton Market as well as catching up with my Dad. He had an invite through the door for a scarecrow competition, so we signed up to make a scarecrow for May Day Bank holiday - as you do! They have a route and to walk to see them all, we are going to try to make a brass bandsman, with an old uniform and instrument from the band Mr H and the kids play in.
SRP is busy as always. The Platinum Jubilee book article is coming together with the words nearly finalised and a wish list of images gathered. The working group is agreeing the final words prior to sending them to the publisher for them to review.
RP Today is motoring towards its copy deadline as it usually does, with a huge amount of support from the Magazine Committee. They are working on gathering any ideas for articles for future editions, if you have something you would like to write about please send them to RPToday@srp-uk.org. I am helping with three articles this time, not sure how I took on so much, but hopefully will get at least one of them finished next week then only got the others to sort out. Plenty of time until the deadline….
SRP's Council meeting is in early March I am in-between the stage of having had my Directorate Board and not yet completed the report to go to SRP Council. So I am checking which actions I have done and which I said I would do, and working out if there are any that I can sort in time. Then attempting to summarise the minutes of a two hour meeting into a few salient points, for the short report, along with racking my brain for anything that has come up in the meanwhile.
I nearly forgot about this blog, short months are good for somethings but with time off for half term, two days training and busier than usual days at work, something was going to slip, and this was nearly it. Thankfully I am not that old – yet.
You can get in touch on the usual details.
Jennifer Humphries
SRP Director of Engagement
Twitter - @jenkhumphries
Email - Engagement@srp-uk.org