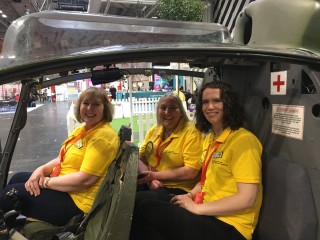 A week in the life of an SRP Outreach volunteer
I spent 5 days helping SRP's Outreach Committee at the Big Bang Science Fair in March and this blog is going behind the scenes to show you how we make it happen (you can see me on the left at the Fair with SRP President Amber Bannon and HA staff Sue Irish).
Tuesday 12 March
I take my girls to breakfast club every Tuesday morning and this Tuesday is no different - but that after I get back in the car and don't just drive a couple of minutes down the road to park, but carry on driving to Penrith station where I catch the train to Birmingham International (the train station at the NEC). The train is quite civilised and the coach is quiet. The only noise is my keyboard clicking away as I write my blog.
I arrive about 13:30 and have lunch with other SRP volunteers before we can get in to set the stand up. We have until early evening to do this but it only takes a couple of hours to get everything sorted out. Unpacking Sue's (Harris Associates) car and putting out the demonstration tables is the first order of business, then we have to find all the relevant bits for each demo (which don't all get packed in the same box - it would make life too easy!). The final stage is figuring out how to store the equipment and freebies in the cupboard (which is the heart of the stand during the week); lunch/snacks/drinks are all dispensed from here, as well as storing all the volunteers' coats and bags during the show. So it has to be loaded correctly and we need to know where stuff is; Sue is the Queen of the cupboard and general all round fix-it goddess.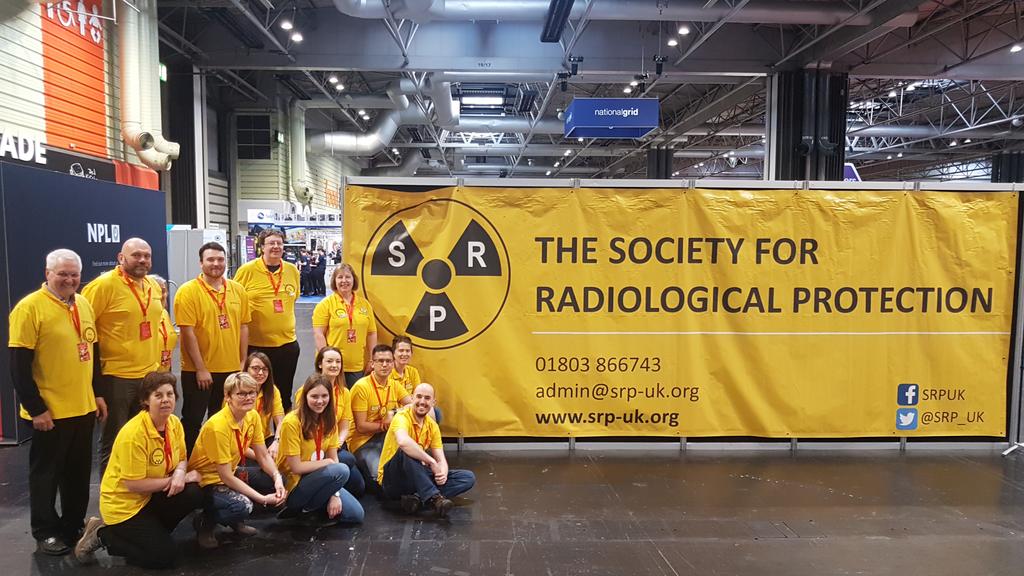 Once the stand is finally ready and the big banner and all the posters have been put up, we are ready to leave and check into the hotel. Getting to the hotel is like wacky races – we have three cars in convoy and get lost twice. Highlights include us all doing an 'illegal u turn' and going all the way round a roundabout twice.
Wednesday 13 March
I get up and go for breakfast at the hotel for 07:30, so I can linger over my many cups of tea and plates of food. Back to the room for a quick spruce up and I am in the lobby for 08:30 ready for the short walk to the stand. The hotel is separated from the NEC complex by an industrial estate and it is quite weird walking through it. Only the first few minutes are outside and then we are in the NEC where it is dry and warm. There are four escalators/travellators between hotel and stand and it can feel like we're walking through an airport but the exciting destination is the Science Fair!
We get to the stand and unpack the cupboard to set up the demonstrations, ensuring our stand is fully loaded with freebies. Everyone arrives and is issued with their yellow t-shirts and name badges. By 09:00 we are ready and Shaun Lenden (RPmatters) - who is our Outreach Committee Chair and this year's Stand Manager - leads the daily briefing which includes interesting info such as what time lunch should arrive, where the toilets are, who can help if you get stuck and who is doing which demo at the start. By 10:30 the stand is really busy and we run out of clipboards for the quiz. I had a wander around the stand and found a pile of them on the everyday objects demonstration table where a group had abandoned their attempt to win the £20 Amazon voucher which is the daily quiz prize. More fool them!
Lunch arrives and we slowly rotate people round so they get 15 minutes to grab a sandwich and drink before getting back to our demonstrations. The sandwiches are all luxury and while we know the names there is a degree of sandwich bingo as you try and figure out which one is egg so you can avoid it.
I want to describe how it is when the stand is busy but it's hard. It is one of those situations where you just deal with what is in front of you - how I imagine service is like in a restaurant kitchen. It is repeating the same or similar words over and over, but often with a different reaction. As soon as the exhibition opened, I did try to encourage people onto the stand but I didn't have much success (probably as I was full of cold and had my Mummy face on) so I stuck to the Nuclear Fission demo and the quiz. Amber Bannon, SRP President (EA), had better success, she even used her jazz hands (sorry I didn't get a photo of that one).
We had some interesting visitors - Marty Jopson (The One Show) stopped by but Amber forgot to take a picture with him and I couldn't catch her eye to do the mime of taking a photo, not without making a right fool of myself.
Eventually 14:30 comes around and the stand starts to quieten down and the volunteers can take more time to get a drink and enjoy the leftovers from lunch in a more leisurely fashion. The fair closes at 16:00 and we troop back to the hotel.
Thursday 14 March
Another hotel breakfast and walk to the stand, more new volunteers and a present is on the stand when we get there; it's a cloud chamber delivered from CLEAPSS which supports schools with their science curriculum. One of their members is judging one of the Big Bang Fair competitions today and drops by later on to say hi and check the cloud chamber is working properly. It uses dry ice and isopropanol to visualise alpha and beta emissions from a thoriated welding rod. Lots of people are excited to see this and we manage to impress a fair few folk with it.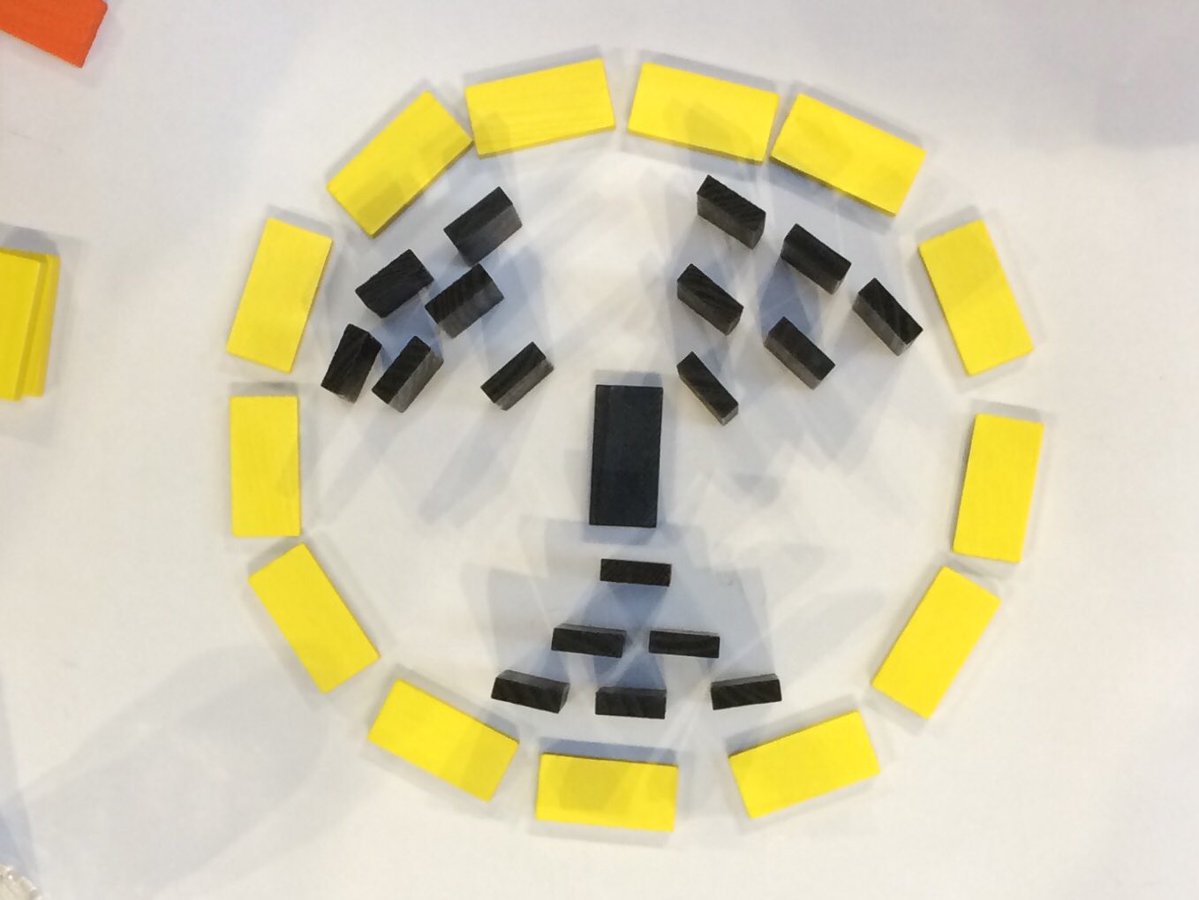 I do more quizzes and fission chips; I even turn my hand to the everyday objects demo and find out one of the items needs removing from its bag as otherwise it shields the weak Uranium emissions. And I remember mid demo the Am241 source in the smoke alarm does not react to the beta gamma probe, only the gamma probe, which necessitates much passing of instruments between volunteers.
Visitors trail off early today and one of my fellow volunteers uses the quiet time to build a domino trefoil. We did a long trail that spelled SRP last year - you might have seen it on the cover of the Annual Report.
Friday 15 March
Today is Friday (otherwise known as Day 3) and after breakfast I tweet before the day starts and my Twitter account goes mad as all the volunteers are tweeting about the day with the rest of us included, then we are all liking, retweeting and replying. We went into cyber meltdown for a good 15 minutes until we all had to meet to walk to the stand; it got us all enthused for the day ahead.
We have more volunteers on the stand today than any other day and this means a slightly easier time for those of us who are there 'weak'. There are four of us who give continuity and oversight during the week but it is a long week. I help out on the contamination demo, cleaning respirators when they get a big group in and can't keep up with demand. Still no luck attracting folk to the stand (the mummy face is still there) so I help with the quiz and half-life demo.
Saturday 16 March
Today the show runs for an extra hour starting at 09:00 and finishing at 16:30. We all have to check out of the hotel so this morning is more stressful. The focus is slightly different today as well; families come on Saturdays and we get the parents dragging their kids over to see the instruments and I had one mum who practically did the half-life demo for me! Parents spend more time helping the kids with the quiz and ask interesting questions which we answer in a factual way about the science and direct any controversial ones to the appropriate operator or regulator who are usually exhibitors at the fair.
There is also more interest in careers and apprenticeships, as well as university routes, so lots of intriguing conversations. The flow is different today with a more gradual build then a steady state of busy right through until 16:00, unlike earlier in the week.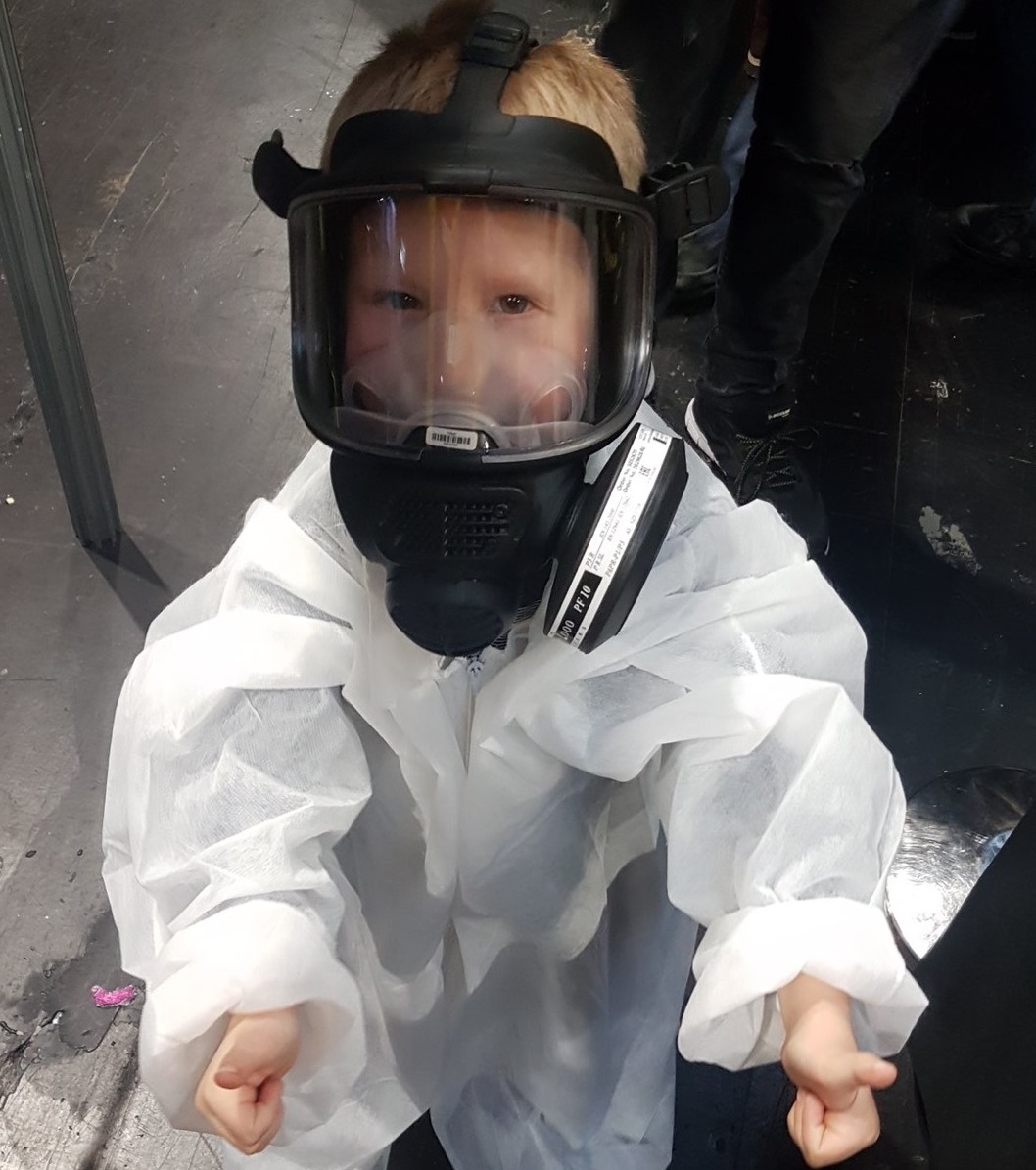 Less volunteers and the fact we are all heading home, means we slowly lose people, some of the demos get shorthanded and others move round to compensate.
We also get some really small kids who are just interested in having a go (photo on left). I really hope this kid grows up to be a scientist.
I do have a train to catch so I spend more time than usual checking my watch - as I've been caught out before - and suddenly realised I needed to leave. This year though I remember to visit the loo and get a chance to say good bye and leave just before the show closes which means I should get back to Cumbria for a reasonable time.
Unfortunately this is Britain and getting a train on a Saturday evening is always fun and Birmingham International is always busy - let's just say I was an hour later home than I hoped I would be.
Big Bang Fair for a full week is hard work but worth it and most volunteers do one or two days and really enjoy it. There are lesson plans and posters which we use on the stand and there is now a procedure where you can request to borrow some of the outreach equipment to do one of the demos at your local school or scout group. Email admin@srp-uk.co.uk if you are interested.
You can get in touch on the usual details.
Jennifer Humphries
Director of Engagement
@jenkhumphries
engagement@srp-uk.org